Covid-19 Cleaning
Learn More about our Covid-19 Cleaning Services in Falls River, MA and the surrounding areas
Glow remains committed to our main mission: providing high quality cleaning services for our customers. In light of this, we are proud to present an expansion in our service portfolio by offering professional COVID-19 cleanings.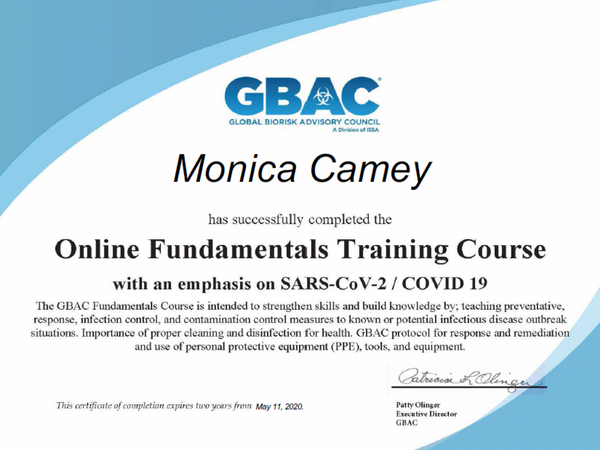 We are fully certified for Covid-19 cleaning in Rhode Island and Massachusetts
Monica Camey, and employees of Glow have been trained by the Global Biorisk Advisory Council with an emphasis on SARS-CoV-2 / Covid-19 on protocol for response and remediation and use of personal protective equipment (PPE), tools, and equipment. The GBAC helps businesses respond to biological threats. To learn more about the GBAC, please click here
Covid-19 Cleanings apply to the following
Homes, work spaces, or commercial buildings where one or more persons have tested positive for Covid-19

Homes, work spaces, or commercial buildings interested in regular disinfecting services to help prevent the spread of Covid-19

Work spaces or commercial buildings in need of Covid-19 cleanings after every building use to stay within company or organization protocol (i.e. dance studios need cleanings after every class, etc.)
Employees clean in compliance with the CDC guidelines by using masks, gloves, shoe covers, fresh uniforms, and PPE suits. Special machinery (using highly effective, EPA standard cleaning chemicals) coupled with the right technique, helps ensure the virus is properly killed. For more on our company protocol for Covid please see here.