Office Cleaning Services
Be Prepared for Unexpected Visitors
Trust us to keep your office looking great
Would you be comfortable if an important client dropped by your office without warning? Make sure your workplace is kept spick and span by turning to Glow Cleaning Company for regular office cleaning in Fall River, Massachusetts, and Rhode Island. We'll keep the common areas tidy, clean the break room, sanitize the bathrooms, and more. Whether your clients drop by unexpectedly or for a scheduled meeting, they'll be impressed with your spotless office.
Our range of office cleaning services is extensive, and our commitment to customer services is behind everything we do. There's no one that does it quite like we do, so call us at 508-233-3625 or contact us online to arrange a no-obligation consultation! You, your employees, and your visitors will be glad you did.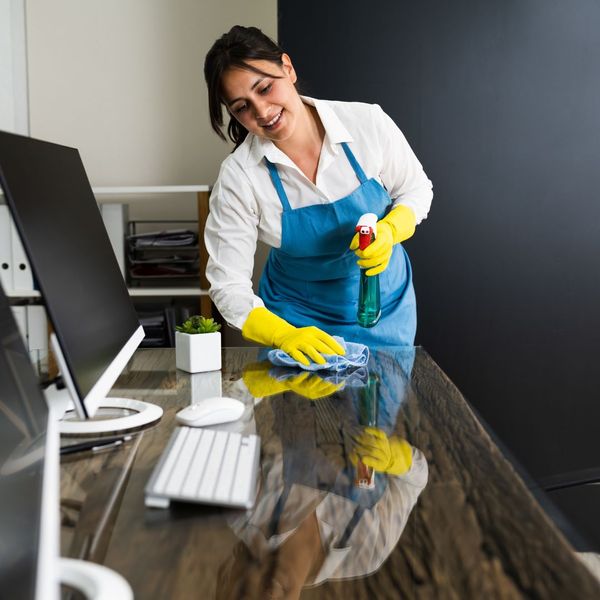 Is Your Office as Clean as You Think?
When it comes to office cleaning, many business owners assume that their workspace is much cleaner than it actually is. Indeed, amidst the hustle and bustle of managing accounts, filing paperwork, and meeting with clients, you might not notice when your office has fallen into a state of disarray.
However, the reality is that without professional cleaning services, germs and bacteria can quickly accumulate in your office, leading to an unhygienic and unhealthy workspace. That's why it's important to not only hire a commercial cleaning service once, but also to make sure they visit your workplace regularly. By doing so, they can ensure your office is free of dirt, grime, and clutter, no matter how hectic things get on the sales floor.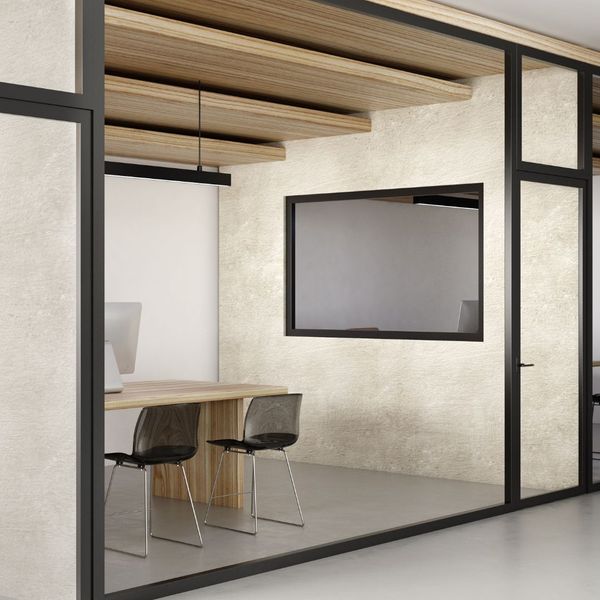 Discover the benefits of professional office cleaning
It's easy to forget that a dirty office can be a major problem for your business, but it's true. An unclean office can lead to increased employee absenteeism, reduced productivity, and a decrease in morale. It can also be a health hazard, with dust and bacteria collecting on surfaces and in hard-to-reach places. But don't worry — Glow Cleaning Company in Fall River is here to help!
If you're searching for ways to improve your business operation, start with the basics. Our qualified cleaning professionals have countless jobs under their belts, with just as many satisfied customer reviews to back them up. As a result, we can provide regular janitorial services that can improve your operation by:
Improving Air Quality: Routine office cleaning can help remove irritating dust, allergens, and other contaminants from the air.

Reducing the Spread of Disease: Tired of taking so many sick days? Our cleaning services can help eliminate viruses and bacteria that cause illnesses.

Increasing Productivity: An uncluttered, freshened-up office can help your employees feel ready to take on the day.

Boosting Company Morale: A clean office is a happy office! Your employees will love working in a space that's bright, shining, and spotless.

Enhancing Your Office's Appearance: First impressions matter, so it's important to make sure yours is a good one. We can help your office look its best for surprise visitors and critical clients alike.
Do you want to experience these benefits and others? Book your first office cleaning appointment today!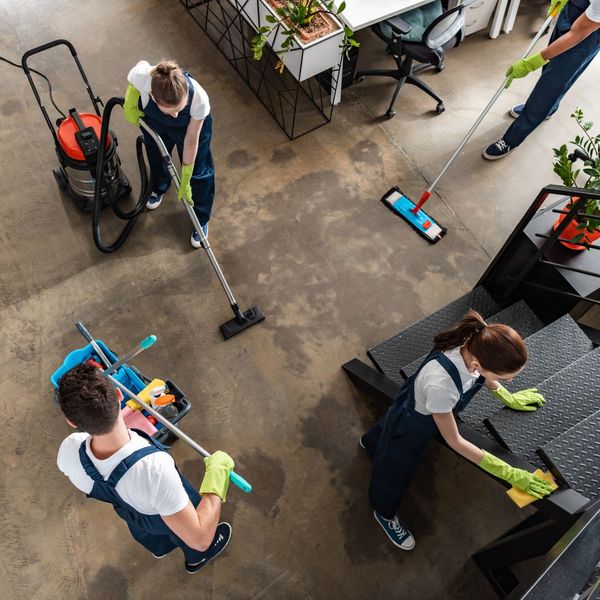 We Won't Miss a Spot
At Glow Cleaning Company, we provide comprehensive cleaning services for offices of all sizes in Fall River and the surrounding areas. These include:
Vacuuming and mopping floors

Dusting furniture, desks, cubicles, shelves, and other surfaces

Cleaning and sanitizing bathrooms and kitchens

Disinfecting telephones, computers, and other electronic equipment

Polishing furniture and fixtures

Cleaning windows

Removing trash

And more!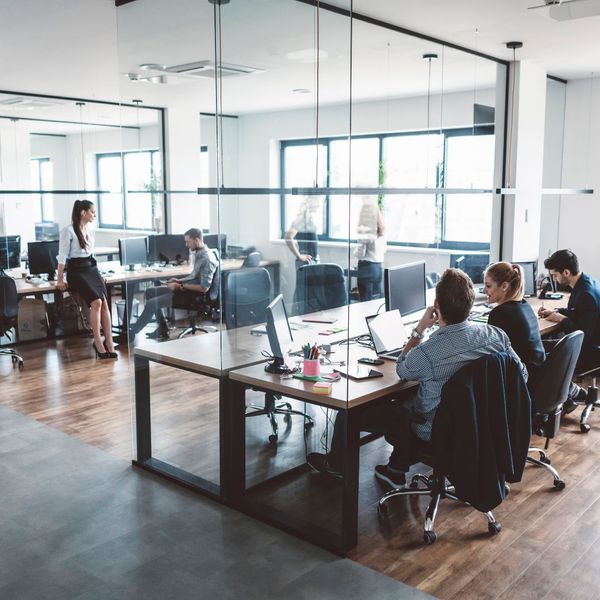 Fall River's Go-To Commercial Cleaning Service
Since 2010, Glow Cleaning Company has been the Fall River community's most trusted cleaning company. We understand the importance of having a clean and healthy environment to work in, which is why we employ enhanced safety protocol on-site and utilize industry-leading cleaning products in every job we do.
Managing your office is hard enough as it is
— don't let cleaning duty add to your stress! Instead, choose Glow Cleaning Company for your office cleaning services. Contact us today to discover what it's like to work in a stunning, sanitized, and spotless office!